We are currently very busy with dome re roofing and cupola projects nationwide. Please be patient while work as many as we can per trip
Roofing a geodesic dome...NOT for the inexperienced! We go behind MANY roofers who think roofing is the same on a dome as a box home. So many things they don't know such as proper overlap and underlaps at the dihedrals, the proper felt, and nail spacing is MOST critical in the lines and the proper number. Notice the decking is the same honey color as when it was installed 25 years ago. See what a difference having a cupola makes. The only reason we re roofed it was a 120' white oak snapped off at the roots and landed on the house. Didn't even penetrate the drywall!
This is My dome after 25 years with a cupola. You'll notice the sheathing is still the same color as the day it was installed.
Almost night and day difference in these photos. Dan Hoobchaak was a great guy with a lot of charisma and he gave me the BEST putter I ever used!
Cathy didn't even scream ONCE when she came home for lunch and found the top of her house gone.
What better colors? Antique Slate and barn wood re purposed from a barn built in the late 1800s. 10, 667 sq ft.,7 bedroom, 5 1/2 bath, with a 14x8x60" Deep swim spa in the middle dome.
Nice view in a mountain valley
This dome (below) was really bad. Many errors including too wide stud spacing. Much better now though and the owner wrote us a nice unsolicited letter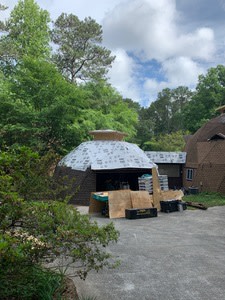 Adding windows where there WERE no windows
This dome was almost completely rotten when we arrived. Owner built it himself without a cupola, and paid the price. It goes to show what well educated and well intentioned people can miss. In this case it was a cupola...which we rectified.
I am writing this to recommend John and Daniel Johnson of New Age construction, based on a terrific outcome on the re roof of my geodesic dome. John sent us a seasoned crew headed up by his son Daniel. He demonstrated a high level of expertise on the difficult process. His dedication and commitment to excellence was evident from day 1. They worked though high temps and thunderstorms without a hitch. We now have a great looking new roof on our dome which NO other roofing company would touch. These are the pros, and it was evident from the start to the finish, these guys were not daunted by the task that frightened many roofers away. Some wouldn't even get out of the truck, they would drive up, look and leave. I highly recommend this company.
Robert Quinn, Orlando Florida
Another perfect job from Dan the man, Gay and crew. These folks waited a year almost for us to work our way to them.The previous clients were SO damaged and we have to fix em correctly.
Some folks call us early....
We contacted John Johnson of New Age Dome Construction prior to buying our dome. He was very helpful with information and told us if he was ever in the area he would stop by and check it out. He also told us eventually we would need to get rid of the skylights and install some cupola's. It was not what we wanted to hear as we were just buying the house, so I kept his information for the future.
Fast forward a few years later we start having some leaks in the skylights. I patched them up a few times and decided to get some quotes on replacing them. Between both domes we had 13 skylights all together ranging from 4 to 8 foot in size. I got a quote from a skylight company and decided to move ahead. Out of the blue, I get a call from John checking in telling me he was going to be in the area later in the year and asked if we wanted him to come by. I told him the estimate we received and he told me to cancel it!!! For a little more money, we could remove all the skylights, install 2 cupola's, eliminate the flat roof dormers by pitching them and also replace triangle windows with egress windows on the 2nd floor so we could escape if need be. Essentially, bringing our house up to the current codes. I said sign us up!
In the waiting time, we had lot's and lot's of rain and I was starting to stress out. I would email or text John and he would respond or call me even into the later hours. He was not only our contractor, but he also gave us the mental and moral support to deal with the unknown.
Once we aligned everything, the crew came in and took care of everything promised. We were very fortunate that the only leaks were the actual skylights and there was little to no rot or damage to the domes. The crew brought our house up to code, made it look much better and gave us a strong worry free home for many years to come. We also ended up making friends as we have been in touch since. In fact, we had some tornadoes in the area and I received 3 calls from John and his crew to make sure everything was good.
We highly recommend New Age Dome Construction and we thank John and crew for everything they have done.
Walter and Krista Rossmann
Venice, Florida
These folks patiently waited their turn and the house will be better than new when we leave.
I'll add the video later but this shows the cupola just about to go on, replacing those bad gasket skylights and adding indirect light without the heat.
Shingles on and finishing up the cupolas. There were 97 leaks in this house before we arrived
I n elegant look for a dome in the remote Pacific northwest. Unusual cupola setup but sometimes the remedy is to improve rather than replace. Great folks to work with also.